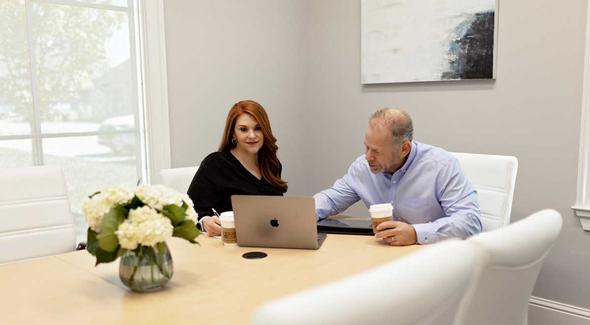 Life's Best Moments, Experienced Fully
Life is a series of experiences. Full enjoyment of those experiences requires financial resources. At The Bombet Company, we provide personalized financial guidance, helping you create and navigate a clear path from where you are today to the full enjoyment of your tomorrows.
Strategic Alliances
Effective financial planning can sometimes require a team of experts working together to serve your best interests. In such situations, we are the quarterback who makes sure everyone is working together to achieve the best possible results. If you have existing team members you trust, such as your CPA or attorney, we are happy to work with them, and we can also bring in our subject-matter experts as needed. Some of our strategic alliances are detailed below.
Click on any of the logos below to learn more.
How We Can Help
Financial Planning
Where are you today? Where do you want to go? Financial Planning is about crystalizing goals and objectives, designing strategies, and executing solutions.
At The Bombet Company, we empower you to action by guiding you through an effective process of discovery, analysis, and execution. This includes communication and collaboration with other trusted advisors facilitating a synergetic team approach to the planning process.
Wealth Management
At The Bombet Company, we understand investing, but most importantly, we understand investors.
Research has demonstrated that successful investing is significantly impacted by investor emotions. The study of this phenomenon, known as "behavioral finance," increasingly points to investor behavior as a primary determinant towards enjoying a successful investment experience. To achieve success, investors need professional guidance and structure to neutralize the negative impact of emotions.
Your successful investment experience is achievable with the correct disciplined approach. The Bombet Company has the resources and experience you need to achieve your wealth management goals.
Retirement Planning
Retirement is an important lifestyle change that means different things to different people. At the Bombet Company, we will help you clarify your retirement vision and design the best strategy to ensure you experience a worry free and fulfilling retirement.
Estate and Legacy Planning
At the Bombet Company, we will help you maximize your impact to heirs by helping you clarify your legacy vision for the important people and organizations in your life so that best strategies for your estate plan may be identified and implemented.
Business Succession
Whether your business is a first generation start-up, or a mutigenerational family legacy, we will help you identify and implement best solutions to keep your business operating when it is time for you to move on, delivering value for your years of efforts and protecting the careers of your employees and loved ones who remain working in the business.
Protection Planning
The foundation of a good financial plan is thoughtful protection planning. At The Bombet Company, we will help you identify risk and implement an appropriate defense.
Our Process One thing our clients appreciate about working with us is that we don't believe in cookie-cutter services or a one-size-fits-all approach. Instead, we follow a meticulous process designed to help get to know each client's situation, goals, and level of risk tolerance so that we can make appropriate recommendations to meet their needs. Everyone is different and we may amend our approach to suit a specific client, but in general, we utilize the following process to help those we're privileged to serve.
Step 1: Review
Every family's financial situation is unique. That's why it's so important to find out as much as we can about you and your financial goals. The more we know about you, the more precise recommendations we can make and the more we can help you. As a result, we may take some time to discuss your hopes, dreams, and objectives, and the things that really matter to you. This is the basis for the first meeting with anyone we sit down with.
Step 2: Analyze
As needed, we will work with you to identify and prioritize your objectives, and then help establish benchmark goals. This is important because we live in a world of unlimited choices. People often fail to achieve objectives because they try to accomplish too much at once, or they don't attach specific deadlines to their goals. By breaking down your goals to specific objectives, you can look at available resources and decide which goals are realistic, and which should be adjusted and scaled down.
Step 3: Develop
Based on our conversation and analysis, we can recommend the steps that it will take to help you achieve your financial goals.
Step 4: Coordinate
We regularly coordinate insurance and financial activities for clients with the other members of their team of financial, tax, and legal advisors. We can do the same for you.
Step 5: Implement
We'll implement your strategy, and work closely with you and your other third party professionals to ensure its success. We'll monitor progress and provide ongoing service as your needs and situation change over time.
Step 6: Monitor
This is not a one-shot deal. Strategies need to be adjusted periodically as your life and the economy changes. We will work with you over the years to help keep your strategy on track with your changing needs.